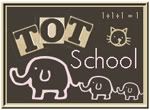 19 months old
As a former preschool teacher, my mind tends to plan in themes so Daphne's first theme is All About Me. We sang the songs Head, Shoulders, Knees and Toes and If You're Happy and You Know It. We read The Foot Book and Hand, Hand, Fingers, Thumb.
This week she played with the
Linking People
. She basically dumped them out and then put them in and out of the bowl.
Daphne tried spooning the pom pom balls from one bowl to the next. She was really concentrating on this one.
We played with Mr. Potato Head. Daphne could play with this forever! She takes the pieces out and puts them back in - over and over. She is getting pretty good at identifying her body parts - so we practiced with Mr. Potato Head (ears, eyes, mouth, arms, nose).
Check out more Tot School ideas at
1+1+1=1.