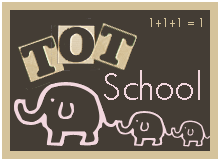 Here is my first official blog post of our
Tot School
. I don't know if it is because she is the third, but Daphne doesn't get a lot of playtime just for her. We play, of course, but Daphne usually joins in on what the big girls are doing. I am trying to make our playtime more intentional so I am hoping that posting weekly Tot School pictures will help.
I haven't given Daphne any crayons yet so I thought this week would be a good week to start. On Thursday, Norah and Lucy broke up some of our old crayons and sorted them by color. We lined a muffin tin with cupcake liners and added the old crayons. I melted the crayons in the oven at 350 degrees for about 5-7 minutes. Once cool we peeled off the cupcake liner, and Voila! We had chunky crayons for Daphne.
I put Daphne in her booster seat and gave her a couple of crayons and paper. Of course, Daphne first tried to eat the crayon. Then she basically banged the crayons on the tray. It was a fun first try!!
We read/sang the Wheels on the Bus.
This week we played with blocks. The girls dumped the wooden blocks out for Daphne and did a great job of letting her explore the blocks before they started building. Daphne basically just turned them in her hands, banged them together, licked them, chewed on them and dropped them back in the bucket. Once Norah, Lucy and I started building, Daphne squealed with delight as she knocked over our towers.
I am trying to figure out how to fit this "intentional" playtime that is totally focused on Daphne into our normal day. Obviously, Daphne gets lots of attention and playtime during the day, but like I said before I want some time that is focused on her.
If you are interested in learning more about
Tot School
check out this blog. You will find TONS of really great ideas for toddlers of all ages.